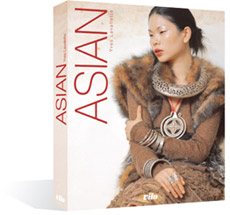 Format : 24 x 30 cm
ISBN 2-7191-0782-4
240 pages
Prix public : 45 euros
Sortie en librairies : octobre 2005
Éditions Vilo

Asian
Yves Lavallette & Antoinette Desjardins
With concept stores thriving in many European capitales and in the USA, Yves Lavallette and Antoinette Desjardins propose through ASIAN, a moment of "trendy"Asian life mixing delicacy and originality through certain aspects of the fashion, decoration, beauty or culture which stood them out.
At the bend in a street of Paris, a journey in Asia: in China, in Tibet, in Vietnam... the authors present photographs taken at the chances of a meeting, some shots of unusual object, photographs of sumptuous Lu Yan...
All these moments lived and retranscribed by the image evoke the modernism, the purity, refinement, and, sometimes the avant-garde of a marked Asian culture also in France.

ASIAN is a true testimony of the idea that a journey can start right from Paris, and is, above all, the suggestion of a certain atmosphere...
Beyond a personal original approach, the book appears to be a singular and poetic "tendency notebook" which invites the reader to get lost in a delicious crossing between Asia and France.